</p>
Music On Pointe is fortunate to create a platform for artists from all different backgrounds to come together. In times when oppression and suppression are brought to light, we want to use our platform to share ideas, thoughts and perspectives.
One year and one week ago, Music On Pointe hosted its Benefit for Strong Girls inc in Miami. During our events especially, it is shown to us that community and bringing together artists to create mutual understanding and empathy across cultures are important and that our work around the globe and impact within various communities is needed.
As a response to Coronavirus and the worldwide lockdowns, we started hosting free online Fitness classes to keep our bodies moving and our minds active. The classes were mainly attended by classmates of the School of Public Policy from the London School of Economics and Political Science. The fitness classes helped us to work on posture while studying, distract our minds and practice selfcare, so we can make bigger and more positive impacts in the world when being in peace with ourselves.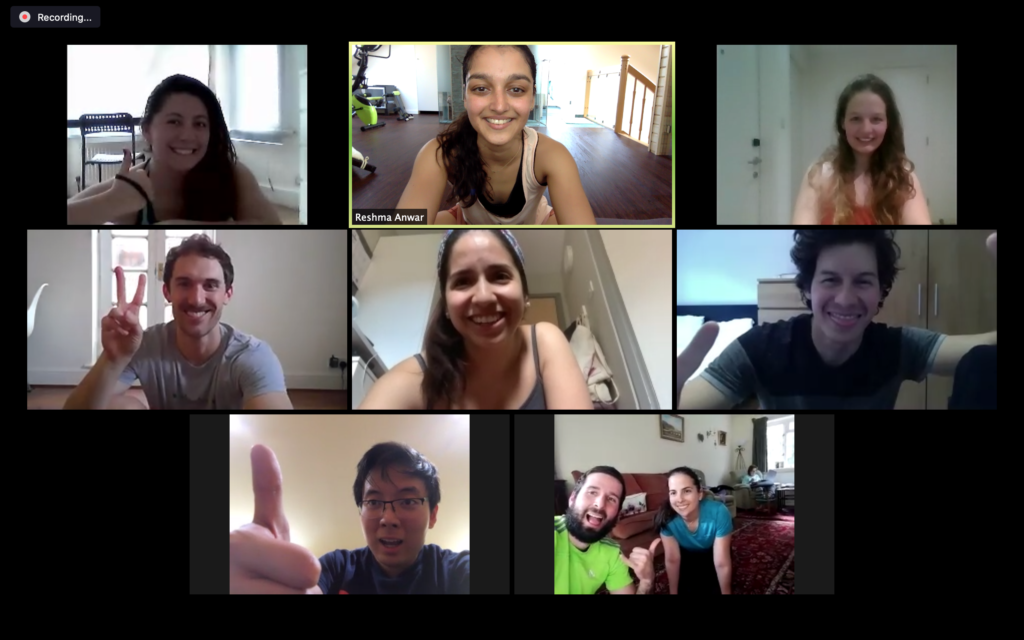 The pandemic that came to light right after, is a topic that is often put at the end of an agenda, but it can no longer be denied of its existence, Racism. Systemic racism is known to be present in various countries around the world. But it took a lockdown and cancellation of various events, to have us sit down, reflect and actively see what is happening within and around our communities. The killing of George Floyd was the trigger of the Black Lives Matter movement to step out and make themselves heard. People from around the world marched against racism, during a still existent pandemic, which finally led some governments and companies to take action post realization.
So, was this the wake-up call that many of us have been waiting and suffering for? As a brown person who grew up in Germany, who the police were called on due to playing music in her own garden, I feel the racist views every day. Having been bullied my whole childhood because I wasn't the definition of beauty that was advertised on German TV, having seen my parents and I being followed in stores because we were thought to steal, having been asked where our stand is to sell clothes, while both of my parents are successful doctors, I feel the pain with many others. There is a lack of feeling of belonging for people of color, which is felt by the smallest details, such as never having small shoes sizes provided in stores, bracelets that are way too wide for South Asian wrists but are called "standard" length, or by having to travel miles just to find your own skin town colored ballet shoes if any, since the other colors are still special order.
These experiences were mostly felt in Germany. When coming to the US, I learned that being a brown human is beautiful. I was taught by my friends of color that being a minority is a beautiful uniqueness. They were the ones who were open to listening to my pains, my struggles, my joys, my story until I was looking for a dance job and heard the terms "token black dancer", "token white dancer" yes we are still doing this and I was made clear that finding space for brown will be a challenge. But I am grateful for the dance families that I ended up finding.
As a South Asian heritage woman, half Indian, half Pakistani, but being brought up in Western Europe and becoming a woman in America, I learned that the question of belonging is rather redundant and so is the question of "where I am REALLY from." For some reason, it is hard for Indian people to support their own, to accept their history and to move forward in unity. That is why I feel inspired at the moment. Brown people have been free riding off of Black Civil Rights movements, especially in the US, but it is time to put in the work. I have been asking to what extent does the current movement silence or amplify different minority voices and after one week, I see more and more diverse cultures speaking out, speaking their truth, our truth. This movement is not black and white. It has multiple layers and colors to it, and it takes openness to understand, open up and listen, for EVERYONE, myself included.
A week ago, #Blackouttuesday was being seen across social media platforms. The idea was for the music and dance industries to step back from their usual schedules in order to have the voices of the protests be heard. We, at Music On Pointe, support that cause in order to focus on what is important to keep making positive impacts and inspire for inclusive environments.
I keep thinking about all police brutalities around the world and voices that never receive attention but need help because they may be failed by the system. So, what are we standing for when supporting #blackouttuesday, the marches, the protests, when signing the petitions to seek justice? We stand for all these voices. In India, Muslims are being killed by police. Their voices are not as loud because they are prevented from being loud by the government. Then, there are refugees in Europe who are struggling to gain social understanding. We also can't forget native Americans and their voices, as well as aborigines in Australia that are being expelled from their land, the protests in Hong Kong, the police brutality in Venezuela…the list goes on.
How powerful would it be if we would all unite in one movement, listening to all voices across the globe? How can we not have this forgotten in two weeks? How can we make a bigger impact? One crucial point is our approach. Staying open to learn and evolve, staying informed and constantly educate ourselves further on a global level.
The US is a very influential country, especially when it comes to media distribution. People there have the power to amplify their voices. Is this the world power that the USA is claiming? If so, this could be used for positive change, which it is currently doing on an international level and I hope the realization of that change will be just as positive and awakening for some. We all learned this past week, more about ourselves, our histories, our communities, our neighboring communities and across borders. Wherever you are, make sure you vote for your interests. Listen carefully.
Today is George Floyd's funeral, his six-year old daughter, Gianna Floyd said "Daddy changed the world." Now it is our responsibility to continue to keep these words true and for that we have to hold ourselves accountable at all times.
Sending all my love out into the world.
Sincerely,
Reshma