Sitting on my couch after a long day of work, drinking my nightly tea – yes, I am very European in this instance and my friends like to make fun of me sometimes – looking over the Miami night lights and reflecting on the New Year so far while also anxiously awaiting my Birthday on Monday!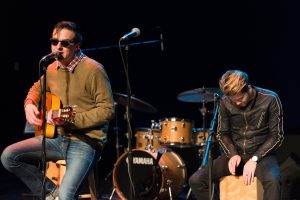 I know that most of us set different goals for 2018. My personal motto this year is YOLO. This website and the Music On Pointe Project play an important role in it. I like to share my ideas with others and create something together as a team. We can learn a lot from each other by simply interacting and collaborating.
I hope you are all enjoying my website so far as I am constantly building it. I am hoping that soon enough we can grow it together and make a positive impact in this world through community projects including the arts, which truly are a unique and very effective way of communication. Artistic mediums make us feel. The audiences becomes empathetic with the artist through associated memories that the arts may evoke or sometimes it simply opens up new ways of thinking and inspire us to think outside of the box.
What has this year brought us so far? There was Martin Luther King Jr. Day not too long ago, a very inspiring man. He believed in his dreams so much that he put the people before himself, the same way Gandhi changed the lives of so many generations ahead and I would like for us to continue working on these life projects to make the world a better place.
A couple of days ago, we saw and/or participated in the Women's March all over the United States. Last year, I was present in New York. Hearing and seeing all these strong women talk and interact with each other gave me hope that we are on a great way to achieve equality and I believe that we are long overdue for that, especially when it comes to minority groups such as myself…
And this is what Music On Pointe is about, a platform to share our views, opinions, introduce our cultures to each other and finally collaborate artistically to bring the message of Peace across. I personally come from a very multicultural background being half Indian, half Pakistani, being born and brought up in Germany, having lived in France, Switzerland and the US so far while having lived with many different cultures. And I trulyI love it. I am passionate about learning and exchanging customs and traditions, which eventually leads to mutual understanding and thus we create sympathy, as well as empathy for each other.
To explain this even further, I want to bring some attention to my interactive timeline. As you can see, as part of my Outreach, I have volunteered to to teach Dance children in Jamaica and Haiti. Music On Pointe started as a College Project my senior year as part of my Music Business final. As I was teaching in Jamaica at First Dance Studio the summer before my Senior Year, I saw their drive to dance and that my belief in the arts and its impacts in peoples' lives became reality. Because of the lack of financial resources for the children, I decided to host a Benefit Concert at the University. It was a great evening of music, fun, baked goods, raffles, talks about my experiences in Jamaica and finally pure enjoyment. We streamed the whole event live internationally. The director of First Dance Studio, Jody, was overwhelmed with joy and I couldn't be happier to have made a difference together with my friends.
I am very much looking forward to put more of these events / Benefit Galas together with you.
Please subscribe to Music On Pointe to stay in touch and follow us on Facebook @musiconpointe.
Love you all.
Have a great time!
Reshma 🙂