Since the last couple of days, I have been part of the American Dance Festival on a Leadership scholarship, which is awarded to young dance professionals, who show potential of becoming positive leaders within communities. This festival shows me every day that dance, music, art are leading forces within the global community. People from all around the world come together and share their passion, culture and customs until we all become one. The understanding of each other on this level is incredible and I am convinced that these driving forces within the arts can bring about positive change in this world, where a lot of things are currently moving, shifting and turning into either the right or the wrong direction towards peace.
Today is World Refugee Day. Today there are more than 65 million people who were forcibly displaced from their homes. About 30 million are children under the age of 18. In the midst of this process, many people, mostly women and children, become trafficking victims, of which 28% are children.
At the moment, Europe, for example, carries lots of refugees, crossing borders, escaping war zones as well as extremely poor living conditions, trying to enter the Western part of the continent with the goal of building a better life. Borders are being closed, opened and closed again to these human beings who have every right to live a good quality life because how is it their fault that they were born into a war zone? How is it their fault that they are the children who grew up with no shelter, protection, a lack of food resources and hardly any outlook for a better future with more opportunities? For them to take on a journey to give their children a better future is a brave one and should be rewarded as such by the Western world. Refugees have to work harder learning a new language, adapting to a new culture, finding friends at school, catching up on work opportunities, etc.
I am hoping that we, as citizens of the Western World, can be more aware and more receiving towards other peoples' struggles. I believe that we can learn from refugees, from their experience. It can open our eyes on what reality really looks like versus what media is telling us. It can become a shared space, a sharing of experiences, memories, and cultures. And instead of closing down, we can open up and embrace each other even more because if humanity works together as a unit we can actually achieve great things together and that starts in our local communities.
One week ago, I, Reshma, the director of Music On Pointe taught my first dance class at Lotus House in Miami, Florida, a homeless shelter for women and children. It was a great feeling to move together and make each other smile. Music On Pointe believes in positive change through art and collaboration and I can proudly say that the mission is on its way to make this world better little by little.
I hope that this inspires you to go out into your community to make a positive change and give someone a smile for at least a day because the memory will stay a lifetime.
Happy Humpday!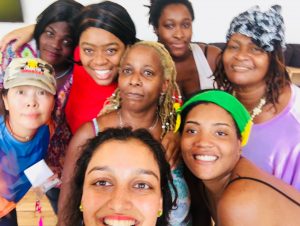 Reshma Anwar